Opis

WATCH INTRO
Why choose GO 3?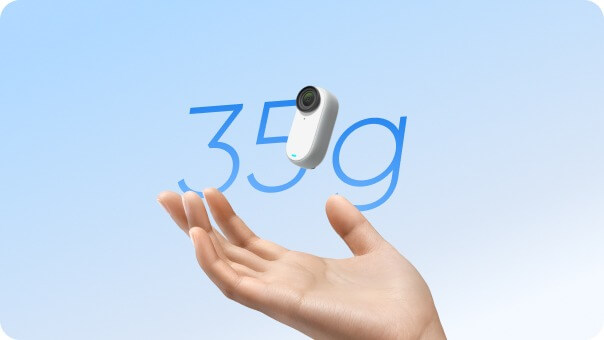 Small & Lightweight
The world's smallest action camera weighs just 35g (1.2oz). Take it anywhere, any time.
Hands-Free POV
Crisp 2.7K video for hassle-free, immersive POVs.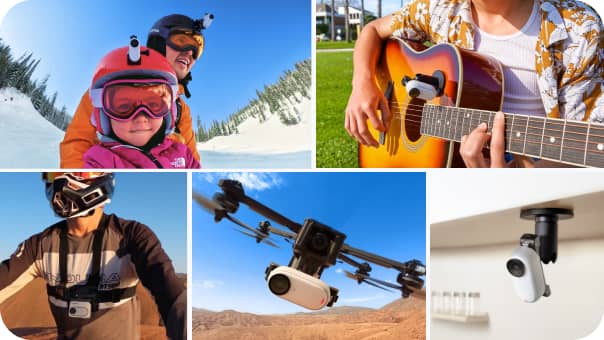 Mount Anywhere
Magnetic mounting system and included accessories enable endless creative angles.
Super Charged Battery
Shoot for 50% longer than GO 2. 45 minutes with just GO 3 or 170 minutes with the Action Pod.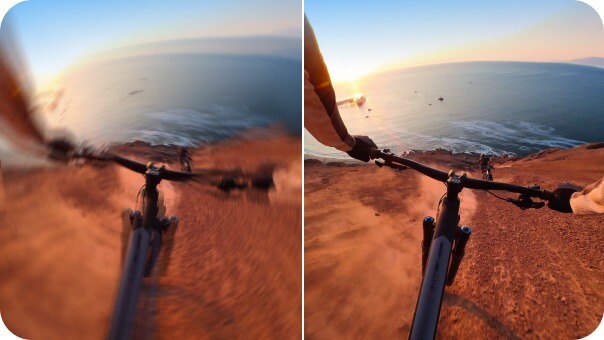 FlowState Stabilization
Guaranteed steady shots with gimbal-like stabilization and 360 horizon leveling.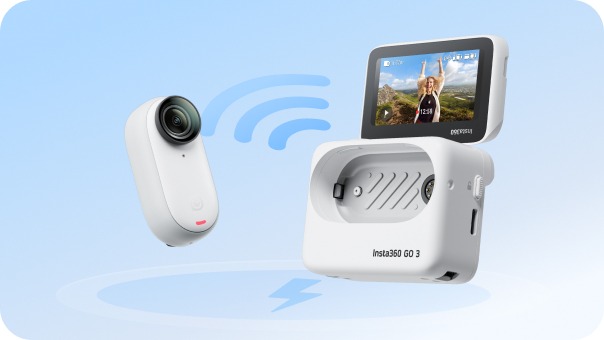 Multifunctional Action Pod
Charges GO 3 and provides remote control and live preview on a huge, new, flip touchscreen.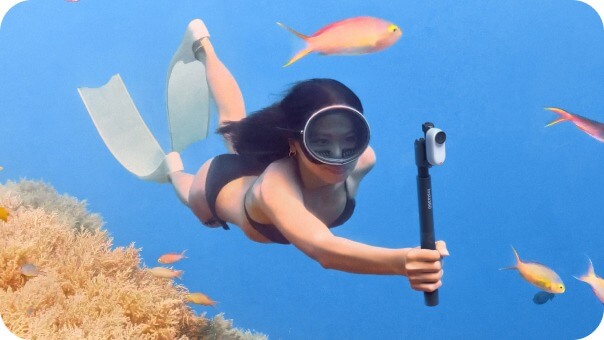 Rugged & Waterproof
Camera is waterproof to 16ft (5m) with a replaceable lens guard. Action Pod is IPX4 splashproof.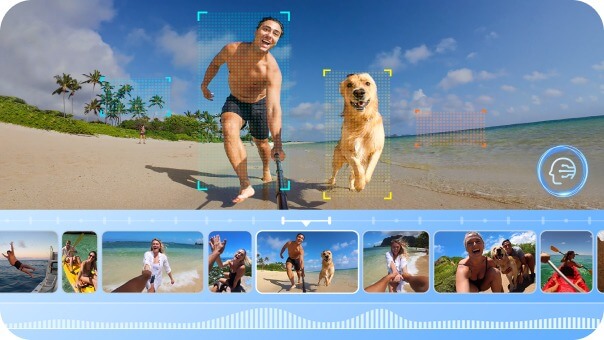 TINY POWERHOUSE
35g of pure potential.
This is the world's smallest action camera. Mount it and take it truly anywhere!
POV CAPTURE
A truly no-hands camera.
Go completely hands-free! Simply set it and forget about it for easy, ultra-wide POV shots in 2.7K.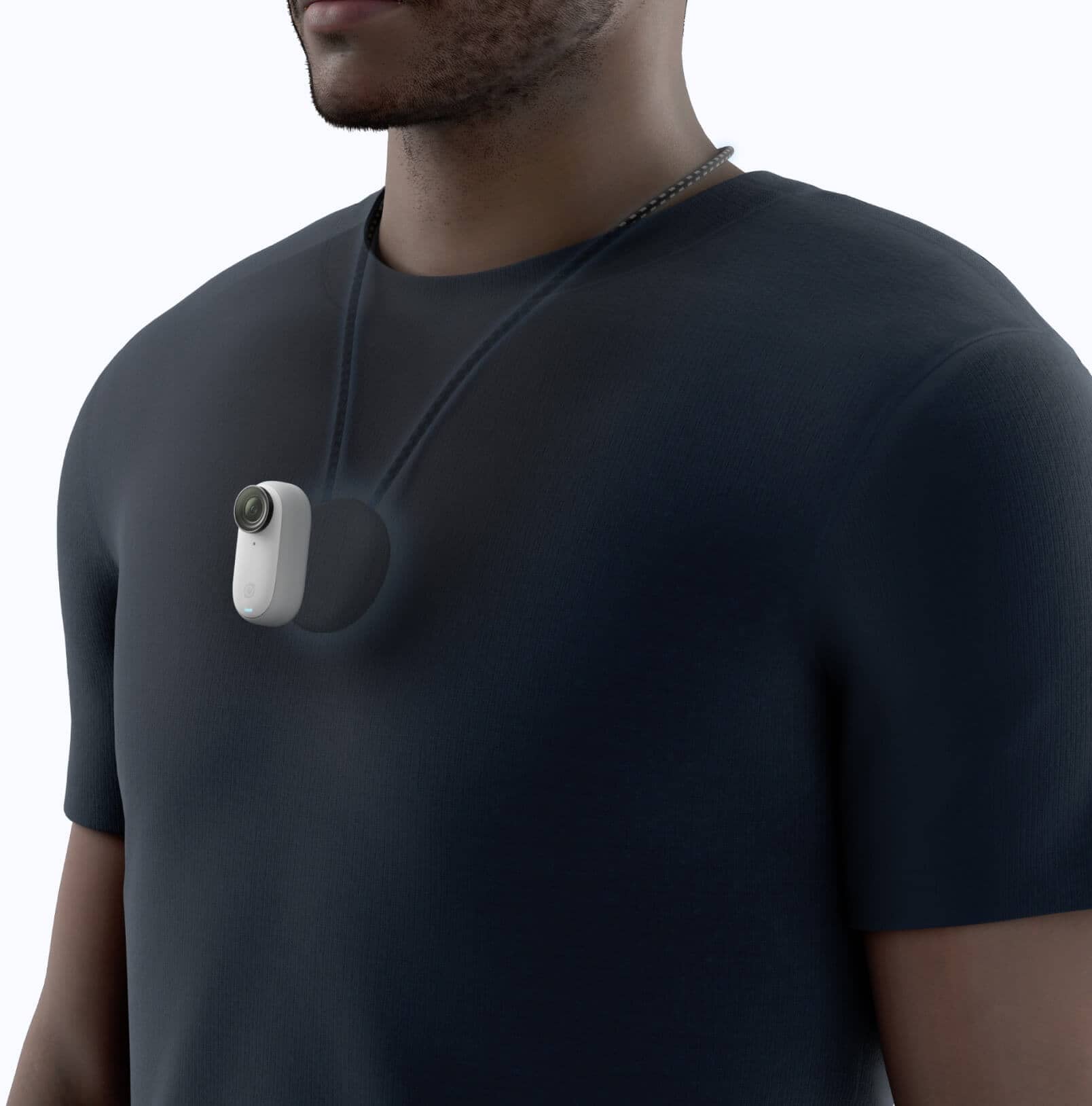 FlowState Stabilization
Bye bye bumps.
Our signature FlowState Stabilization means seriously steady footage. Shakes, bumps or rolls are removed—perfect for when the action gets rough!
OFF
ON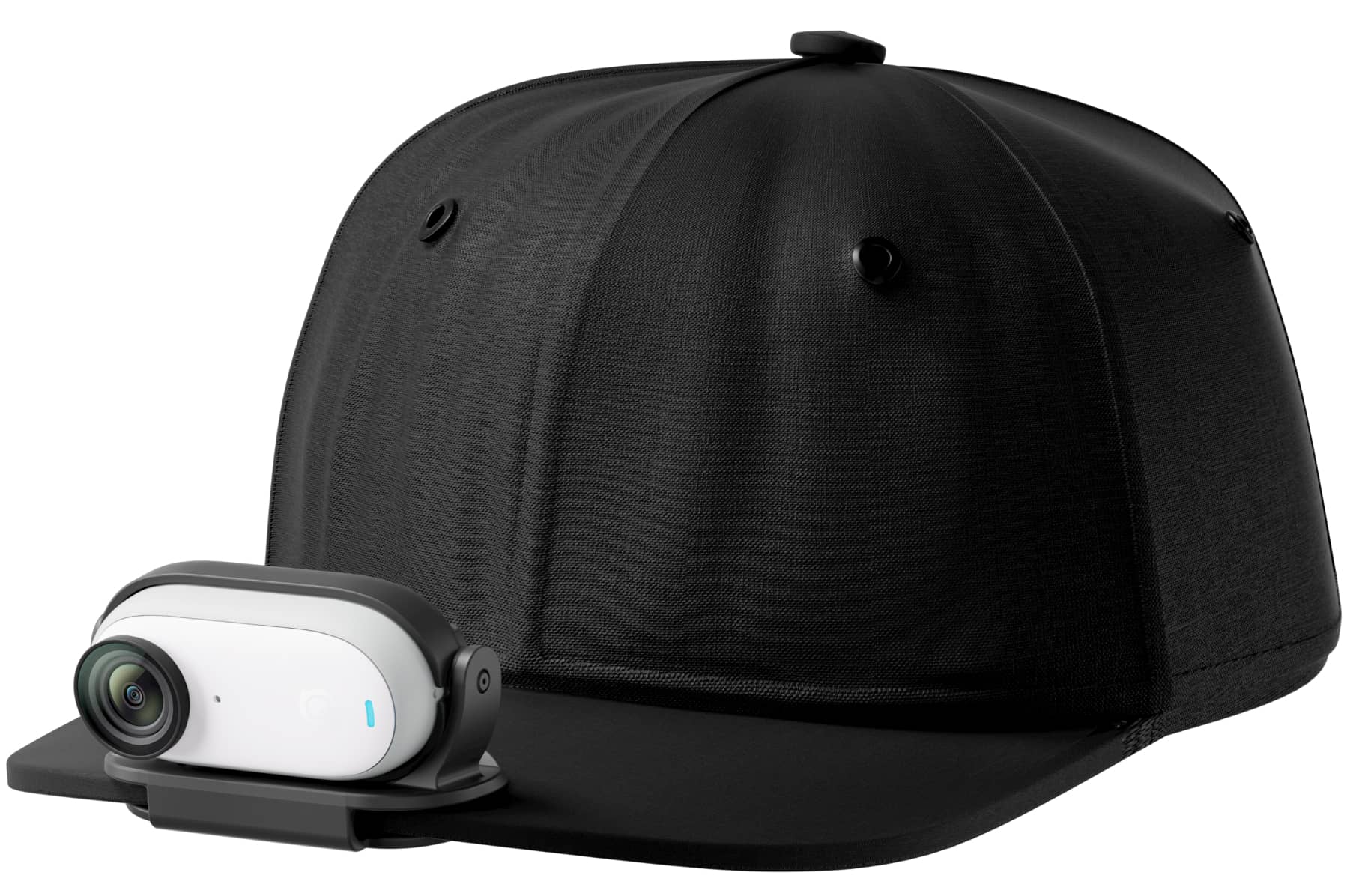 360° HORIZON LOCK
Perfectly level horizons.
Do a barrel roll! GO 3 doesn't mind. Unbeatable leveling technology means your video stays upright no matter what!
*360 Horizon Lock is only available in FreeFrame Video mode. Please process the file in the Insta360 app/Studio to apply the effect.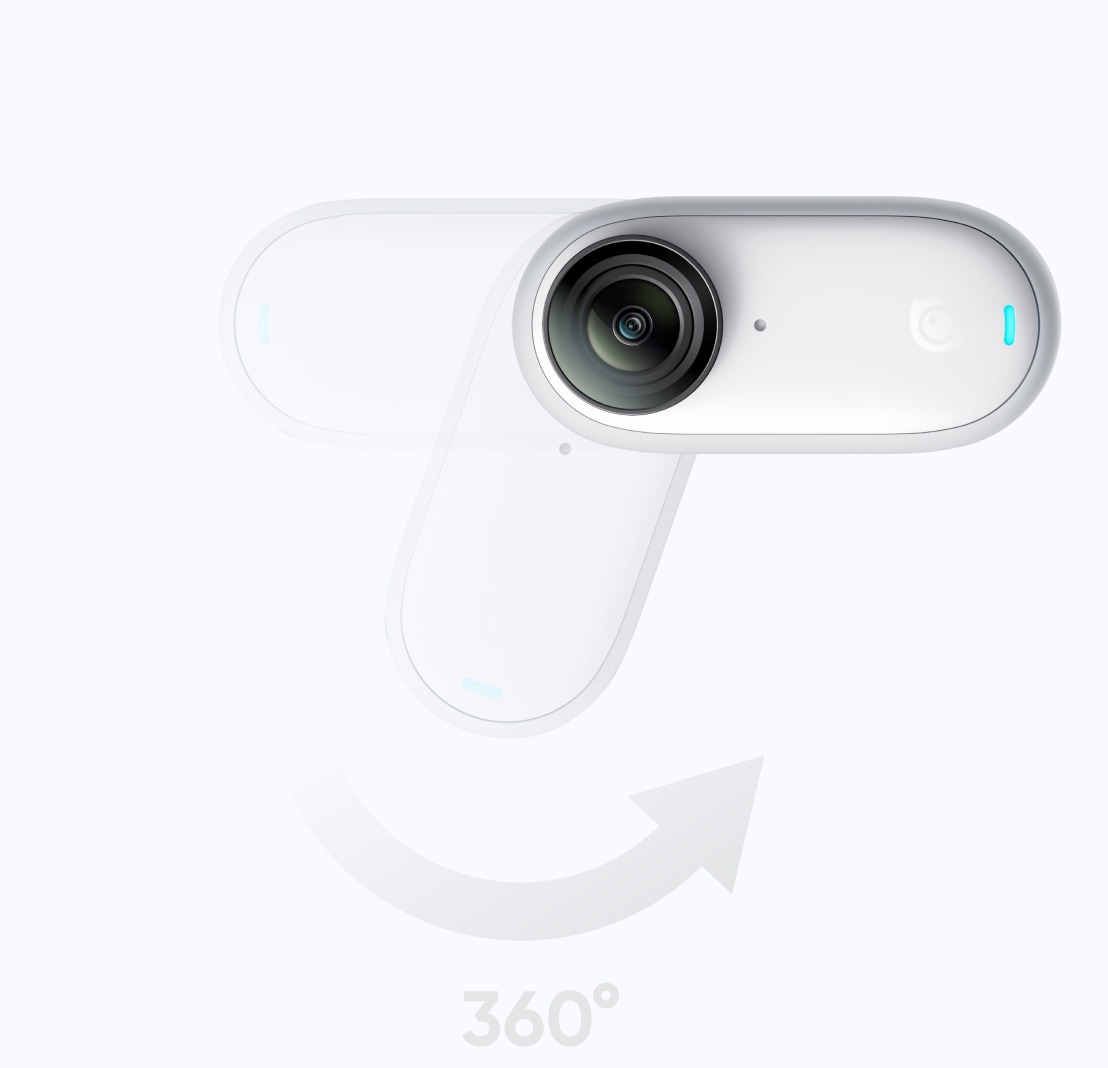 Mount Anywhere
Limited only by your mind.
A tiny cam means easy mounting! With its magnetic design and three included accessories, GO 3 gives you endless creative possibilities, with angles no other camera can handle. Think pets, helmets, or a fly on the wall shot!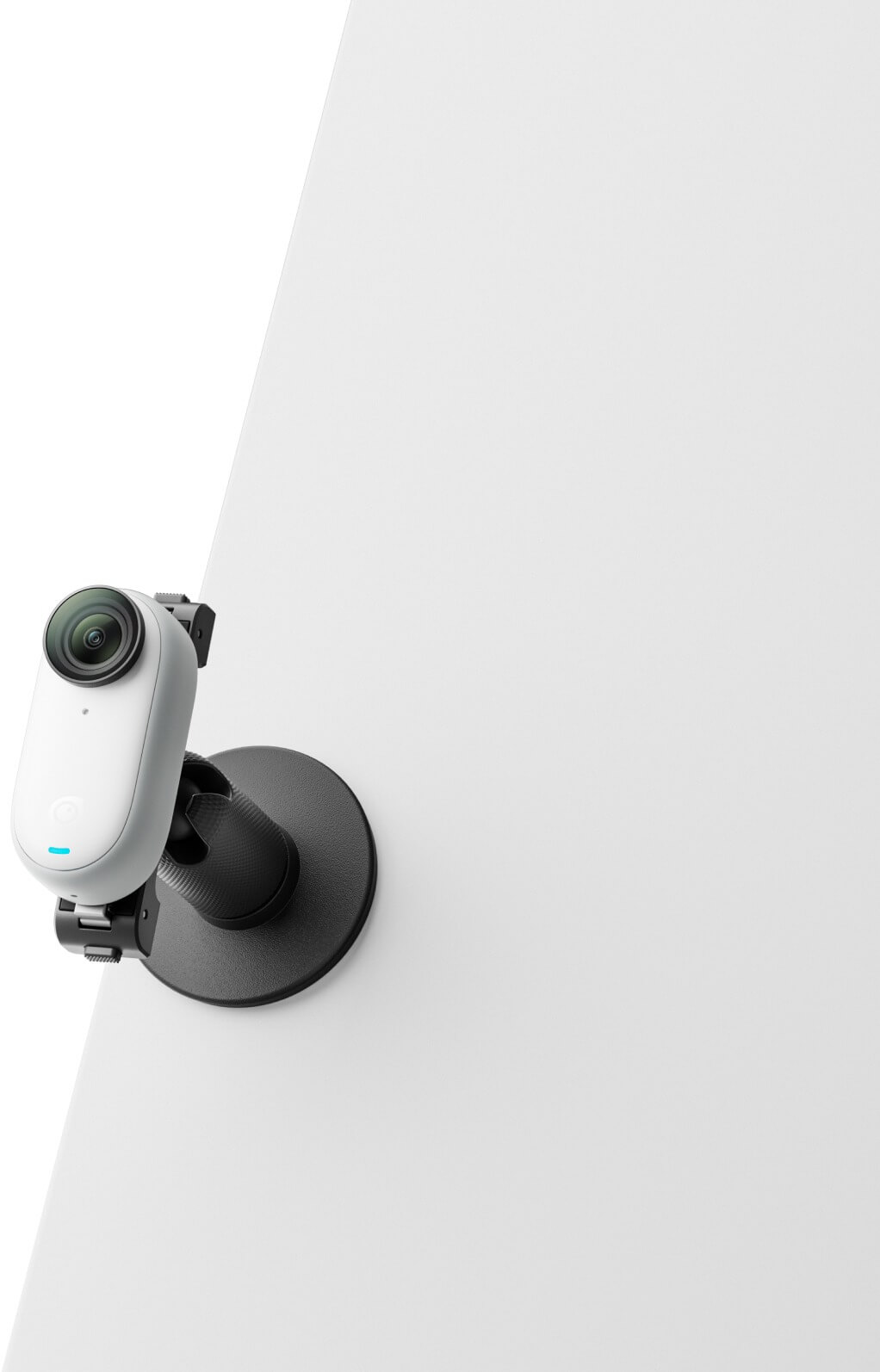 Easy to shoot.
Quick Capture
No more fumbling with your camera settings while the perfect shot passes you by! Even when GO 3 is off, simply press the button on the front of the camera to start recording instantly.
Easy to shoot.
Voice Control 2.0
Unlock the power of Voice Control 2.0 with GO 3! Capture memorable moments in an instant with a single command and stay fully hands-free.
Transform GO 3 with the Action Pod!
EXTENDED BATTERY LIFE
A supercharged duo.
GO 3's bigger battery shoots for 50% longer than GO 2! Join forces with the Action Pod to film for a massive 170 minutes! Now that's an upgrade.
45
min
GO 3 Camera only
170
min
GO 3 Camera + Action Pod
*Tested in 25°C (77°F) lab conditions at 1080p@30fps in "Video Mode", with screen and Wi-Fi off. Run time may vary in different conditions.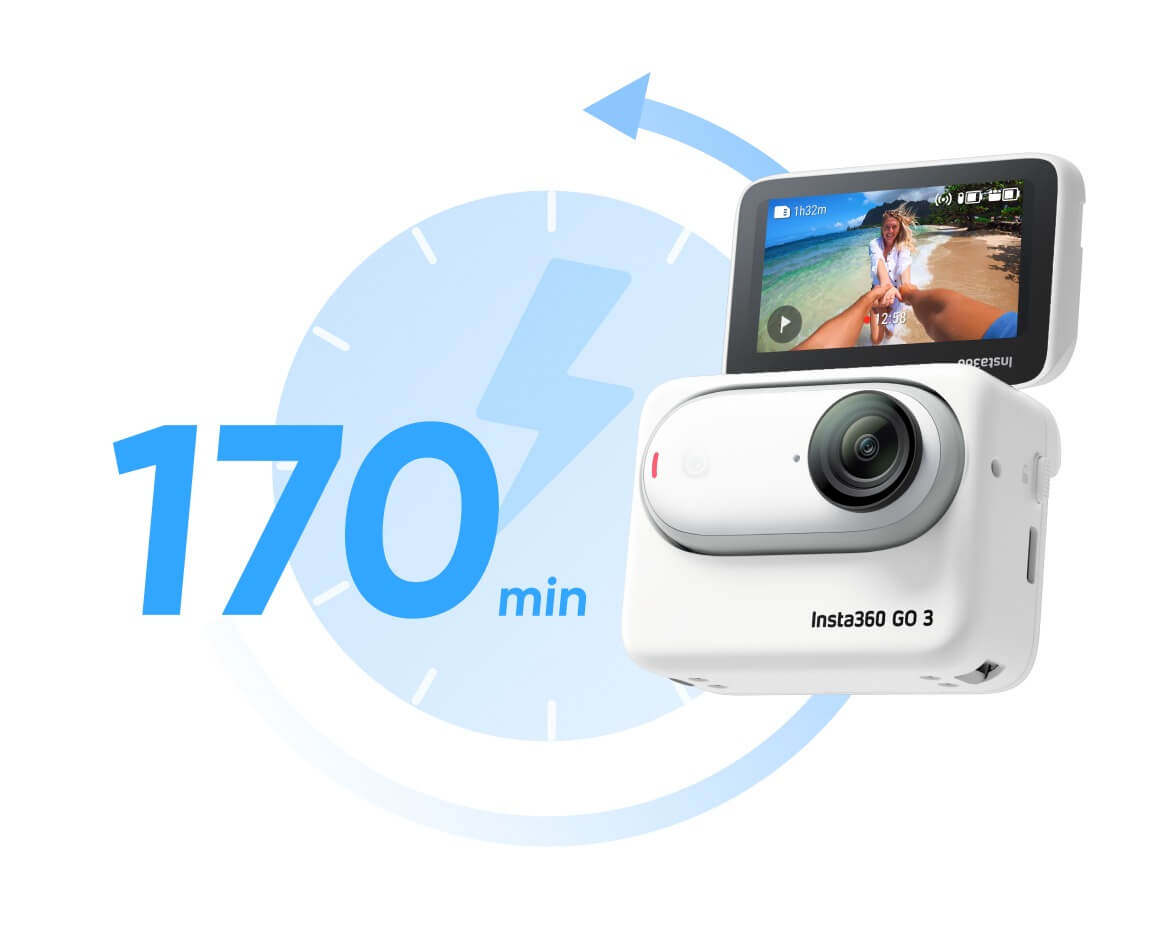 FLIP TOUCHSCREEN
Flip it, you're lookin' real good!
Shoot with GO 3 in the Action Pod for perfectly framed selfies, flawless vlogging, or accurate handheld shooting.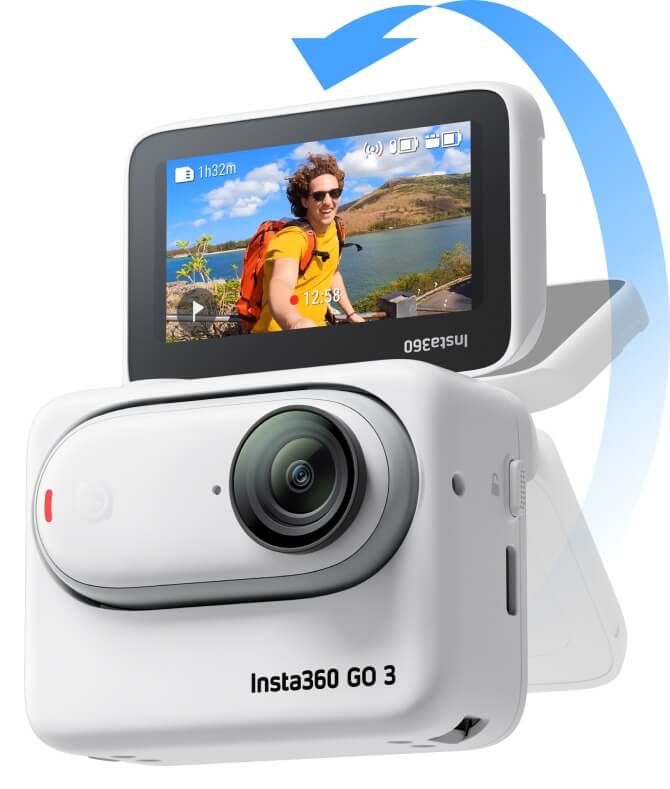 REMOTE CONTROL & LIVE PREVIEW
Perfect shots wherever you mount.
Got GO 3 mounted elsewhere? Use the Action Pod to preview your shots and snap away like a pro.
*Recommended to use within 5 meters (16ft) in an open environment. Wireless interference may affect connection.
QUICK MENU
Give me settings, stat!
Access preset shooting options and settings right on the touchscreen! Just press the Q button to browse and select.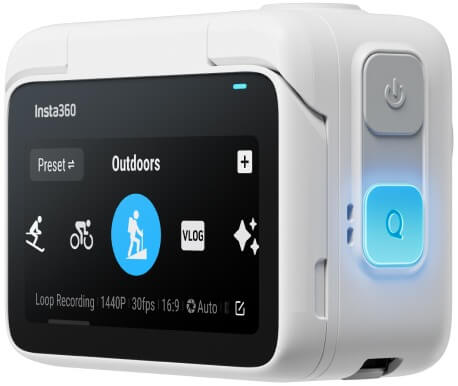 MAGNETIC MOUNTING
Mount up GO 3 or the Action Pod.
The GO 3 camera and Action Pod both fit the same Pivot Stand and Quick Release Mount, with a latch and magnet to secure them in place.
WATERPROOF CAMERA
IPX8 waterproof to 16ft.
Go catch those waves! Take your GO 3 cam out of the Action Pod and dunk it down to 16ft (5m) without worry.
*Included Lens Guard must be installed on the camera for underwater use.
RUGGED ACTION POD
IPX4 splashproof.
Clouds looking a little grey? No need to hide inside. The Action Pod is IPX4 water resistant against rain and splashes.
*The Action Pod is IPX4 splashproof only when GO 3 is installed in it. It protects against rain and snow, but should not be submerged in water or used for activities involving high-velocity water such as surfing and waterskiing.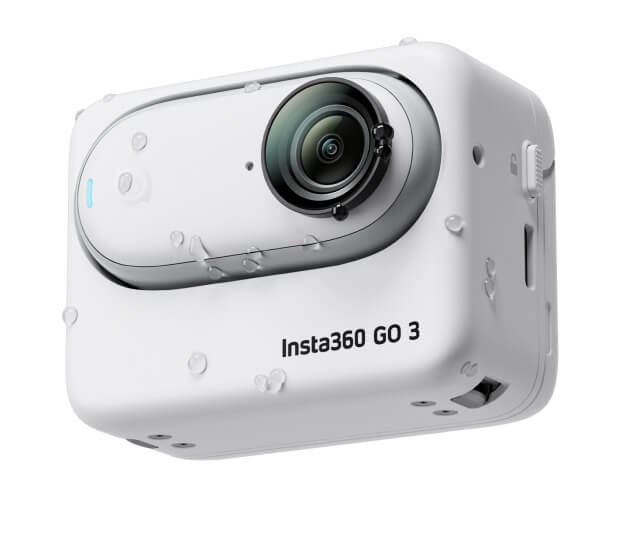 UPGRADED AUDIO
Double the fun.
Record audio with the 2 built-in mics. GO 3 captures vlog-ready audio from all around you. Crisp, clear and immersive.
Get creative.
TimeShift
Slow Motion
PureShot HDR
Timelapse
Speed up time and space. Or at least pretend to.
AUTO EDITING
Let AI do the work.
Auto Editing finds the highlights and edits them together on beat to music. You just choose your clips and put your feet up. It's definitely not cheating…
EXPORT IN ANY RATIO
One shot, any perspective.
From square to wide-screen, choose your aspect ratio after recording with FreeFrame mode. Ready to go viral? Choose 9:16 and GO 3 won't lose any details where other action cameras crop in.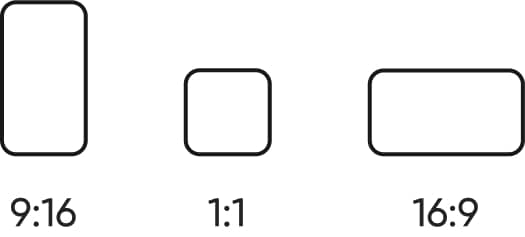 WEBCAM MODE
Conference on the GO!
No more laptop webcams! Take calls on the go with 1080p resolution and auto tracking.
The world's smallest action camera.
Design your own look.
Personalize your GO 3 with Custom Skins!
Specs
ApertureF2.2
35mm Equivalent Focal Length11.24mm
Photo Resolution2560x1440 (16:9) 2560×2560 (1:1) 1440×2560 (9:16) 2936×1088 (2.7:1)
Video ResolutionVideo 2.7K: 2720×1536@24/25/30fps 1440P: 2560×1440@24/25/30/50fps 1080P: 1920×1080@24/25/30/50fps FreeFrame Video 1440P: 2560×1440@24/25/30/50fps 1080P: 1920×1080@24/25/30/50fps Timelapse 1440P: 2560×1440@30fps TimeShift 1440P: 2560×1440@15/30fps Slow Motion 1080P: 1920×1080@120fps Pre-Recording 2.7K: 2720×1536@24/25/30fps 1440P: 2560×1440@24/25/30/50fps 1080P: 1920×1080@24/25/30/50fps Loop Recording 2.7K: 2720×1536@24/25/30fps 1440P: 2560×1440@24/25/30/50fps 1080P: 1920×1080@24/25/30/50fps
Photo FormatINSP (can be exported via App or Studio) DNG (can be exported via App or Studio)
Video FormatMP4
Photo ModesPhoto, HDR Photo, Interval, Starlapse
Video ModesVideo, FreeFrame Video, Timelapse, TimeShift, Slow Motion, Pre-Recording, Loop Recording
Color ProfilesStandard, Vivid, Flat
WeightGO 3: 35.5g (1.25oz) Action Pod: 96.3g (3.40oz)
Dimensions (W x H x D)GO 3: 25.6×54.4×23.2mm (1.0×2.1×0.9in) Action Pod: Screen Folded: 63.5×47.6×29.5mm (2.5×1.9×1.2in) Screen Unfolded: 63.5×86.6×29.9mm (2.5×3.4×1.2in)
Video CodingH.264
Max. Video Bitrate80Mbps
Gyroscope6-axis gyroscope
Exposure Value±4EV
ColorWhite
Compatible DevicesiOS Devices: Compatible with iOS mobile devices with chips A11 or above and iOS version 11.0 or above, including iPhone SE 2, iPhone 8, iPhone 8 Plus, iPhone XR, iPhone XS, iPhone XS Max, iPhone X, iPhone 11, iPhone 11 Pro, iPhone 11 Pro Max, iPhone 12, iPhone 12 Pro, iPhone 12 Pro Max, iPhone 12 mini, iPhone 13, iPhone 13 Pro, iPhone 13 Pro Max, iPhone 13 mini, iPhone 14, iPhone 14 Pro, iPhone 14 Pro Max, iPad Air (2020), iPad Pro and newer iPad models. Android Devices: Compatible with Android mobile devices that meet the following capabilities, including: • Android devices with Kirin 980 and above chips, including Huawei Mate 20, P30 or newer models. • Android devices with Snapdragon 845 and above chips, including Samsung Galaxy S9, Xiaomi Mi 8 or newer models. • Android devices with Exynos 9810 and above chips, including Samsung Galaxy S9, S9+, Note9 and newer models. • Android devices with Tensor chips, including Google Pixel 6. Note: 1. Devices that do not meet the above requirements may still be able to use the app to control the camera, however, performance of some processor-intensive and AI-powered features may be sub-optimal. 2. After testing, phones equipped with Qualcomm SDM765 5G chips have poor hardware decoding capabilities and are not supported for use, such as OPPO Reno 3 5G. 3. App installation requires a mobile phone with a 64-bit system. A 32-bit system does not support app installation.
ISO Range100-3200
Shutter SpeedPhoto: 1/8000 – 120s Video: 1/8000 – to the limit of frames per second
White BalanceAuto, 2000 – 10000K
Audio ModesWind Reduction, Stereo, Direction Focus
Audio Format48Khz, 24bits, AAC
BluetoothBLE 5.0
Wi-Fi5GHz 802.11a/n/ac
USBType-C
Storage32GB, 64GB, 128GB
Battery CapacityGO 3: 310mAh Action Pod: 1270mAh
Charging MethodGO 3: Action Pod Action Pod: Type-C
Charging TimeGO 3: 23 mins to 80% | 35 mins to 100% Action Pod: 47 mins to 80% | 65 mins to 100%
Run TimeGO 3: 45 mins GO 3 + Action Pod: 170 mins *Tested in 25°C (77°F) lab conditions at 1080p@30fps in "Video Mode", with screen and Wi-Fi off. Run time may vary in different conditions.
Use EnvironmentGO 3: -4°F to 104°F (-20℃ to 40℃) Action Pod: -4°F to 104°F (-20℃ to 40℃)