Opis
First GaN adapter in the world is also the smallest one
The HyperJuice 100W adapter with ICN GaNFast technology and the size of a credit card is approximately 50% smaller than other adapters. But the benefits associated with this novelty don't stop there. Crucial to the HyperJuice GaN adapter is the unprecedented speed and efficiency with which it distributes power to all 4 ports.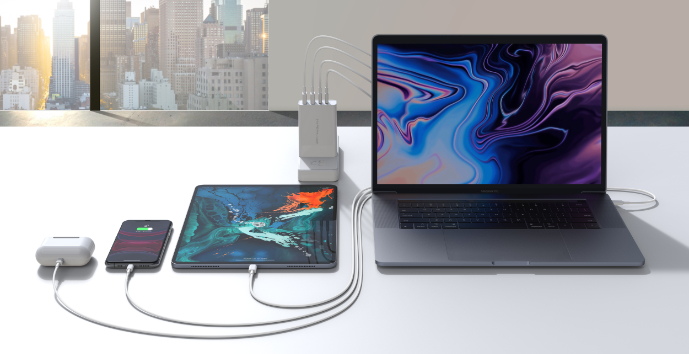 Charging your devices will never keep you waiting again
From now on, only one lightweight adapter will be enough to charge your most commonly used devices. With its 4 ports, it is versatile – in addition to 2 USB-C PD 3.0 ports, it also features 2 USB-A QC 3.0 ports, so you can connect even cameras, Qi chargers, power banks, game consoles and other electronics.

How does GaN adapter work in a daily use?
Compared to silicon semiconductors, GaN (gallium nitride) allows direct connection of incomparably fewer components while ensuring accurate voltage regulation. So 100 W power is enough to charge your laptop, tablet, smartphone and other devices at once, because it is distributed with maximum efficiency.
For example, when you connect a 13 "MacBook Pro, iPad Pro, iPhone, and Apple Watch adapter, the device distributes 35-38 watts to each USB-C port and 12 watts to USB-A ports. In practise it means that 1 socket is enough to quickly recharge the biggest energy eaters!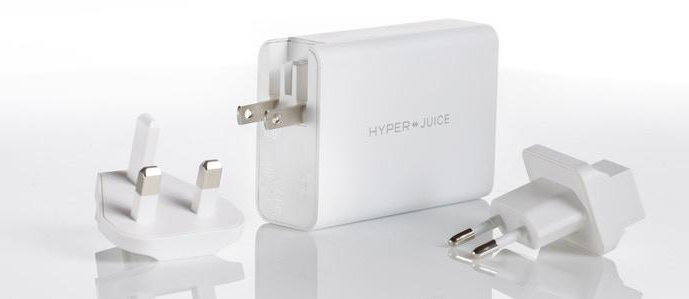 When you're in a hurry and your MacBook is out of battery
The adapter respects the basic need of MacBook owners and other power-intensive devices – to quickly revive and recharge the battery in no time. If you need maximum power for a specific device, just plug the device's cable into the adapter first.
For example, you plug a MacBook cable into one of the USB-C ports of the adapter to ensure a full 100W power. Consequently, when you connect another device's cable to the other USB-C port, the power distribution is then divided into 65 W and 30 W – so it's recommended to first connect the cable of a device that needs more power.

Supports you on your travels
The HyperJuice GaN Adapter via USB-C Power Delivery Ports can simultaneously power two 15″ MacBooks Pro. Though, it is still such a small device that it fits in your pocket. For longer journeys it is equipped with 3 adapters for EU, US and UK sockets. The HyperJuice adapter supports 100-240V universal voltage.
Perfect modern charging
All charging over the last 30 years has been provided by slow and large silicon semiconductor integrated circuits switching at low frequencies. The charging devices were therefore large, heavy, inefficient, expensive, and they themselves consumed 20 % of the energy.
While the GaN semiconductor enables charging at 100x higher switching frequency, resulting in a smaller size and a lower cost, which does not have to cover passive components, and saves 5 times more energy due to more efficient transmission.
Navitas has solved the first generation of GaN ICs problems and has developed ICN GaNFast with a miniature printed circuit board with thin heatsinks in a fire-resistant case, creating much smaller, much safer and much cooler kind of an adapter.
Test HyperJuice Adapter from 9to5Mac.com

Feature overview
Small compact 100W charger adapterExtra high switching frequency for up to 5 times faster chargingExtra effective power distribution based on consumption of connected devices2x USB-A Quick Charge 3.0 ports2x USB-C Power Delivery 3.0 portsAdapters for EU and UK sockets, integrated US socketIdeal for charging the latest devices at full speed (including 16 "MacBook Pro)Even under full usage or long operation, there is no danger of overheating
Technical specifications
Dimensions: 85,3 x 60,8 x 28,9 mmWeight: 208 gInput: AC 100 – 240 V, 50/60 Hz, 2,4 AMaximum output: 100 WUSB-C 1: 100 W Power Delivery 3.0, 5 ~ 15V / 3A, 20V / 5AUSB-C 2: 100 W Power Delivery 3.0, 5 ~ 15V / 3A, 20V / 5AUSB-A 1: 5 / 10 / 12 W, 18 W Quick Charge 3.0, 5V / 3A, 9V / 2A, 12V / 1,5AUSB-A 2: 5 / 10 / 12 W, 18 W Quick Charge 3.0, 5V / 3A, 9V / 2A, 12V / 1,5AOvercurrent protection, protection against overvoltage, overheating and short circuitCompare adapter features to other products in a similar category (PDF)
Hyper presents GaN HyperJuice in a video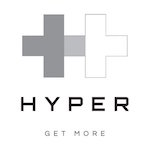 Hyper is a brand of Sanho Corporation, based in Silicon Valley, which celebrated its 10th anniversary in 2015. Hyper is not just a newcomer or a short-term miracle brand, but they keep the enthusiasm and sense of innovation in the field of computer and mobile accessories, portable power and data storage. Over the course of its existence, Hyper has come up with many successful and award-winning products, such as HyperJuice, external battery for MacBook, HyperDrive, external storage, iStick, the first USB flash drive with Lightning connector and MFI certification, iUSBport, the first wireless USB port in the world, and HyperThin, the thinnest HDMI cable in the world.