Opis
Beyond the Edge
Push any adventure beyond the edge with Osmo Action 3. [1]
It features a quick-release design for easy horizontal and vertical mounting, and full-color touchscreens on the front and rear for effortless control of parameters and playback. With additional breakthroughs in cold resistance, battery life, and waterproof capability, there's never been a better time to take action.
4K/120fps & Super-Wide FOV
HorizonSteady
Cold Resistant & Long-Lasting
Quick-Release Vertical Mount [2]
16m Waterproof [3]
Dual Touchscreens
New Quick-Release Design
Quick Switch to Vertical Shooting
Reliable in -20° C (-4° F) Low Temperatures
150-min Extended Battery Life
16m Waterproof
Imaging System
Imaging that Ignites Expression
4K/120fps
Any moment can become a highlight. Film in up to 4K/120fps [4] and capture experiences in dynamic, incredibly smooth detail.
155° Super-Wide FOV
Opportunities are wide open. A super-wide FOV makes every scene more appealing, immersive, and memorable.
1/1.7-inch Sensor, Optimum Image Quality
Color Temperature Calibration
Experience true-to-life colors. Action 3's color temperature sensor intelligently adjusts white balance and AE for highly accurate colors, even in complex lighting environments like when scuba or free diving deep below the surface.
Quick-Release Design
Mount Up
Secure and Efficient
Strong impact resistance for confident connections. [5] Action 3's innovative quick-release design enhances impact resistance with the combination of powerful magnetic force and an additional positioning clip. This makes it more than ready for high-intensity scenarios. [5] It's also easy to detach and flexible enough to quickly switch up locations and accessories.
Go Vertical
Mount it how you want it. The horizontal-vertical protective frame lets you switch things up and shoot vertical within seconds. Just detach it, turn it, and reattach it.
Battery
Cold-Resistant, Long-Lasting
Embrace the Cold: -20° C (-4° F)
Who's afraid of low temps? Continuously record for up to 150 minutes in temperatures as low as -20° C (-4° F). [6] Action 3 doesn't just handle cold weather. It thrives in it.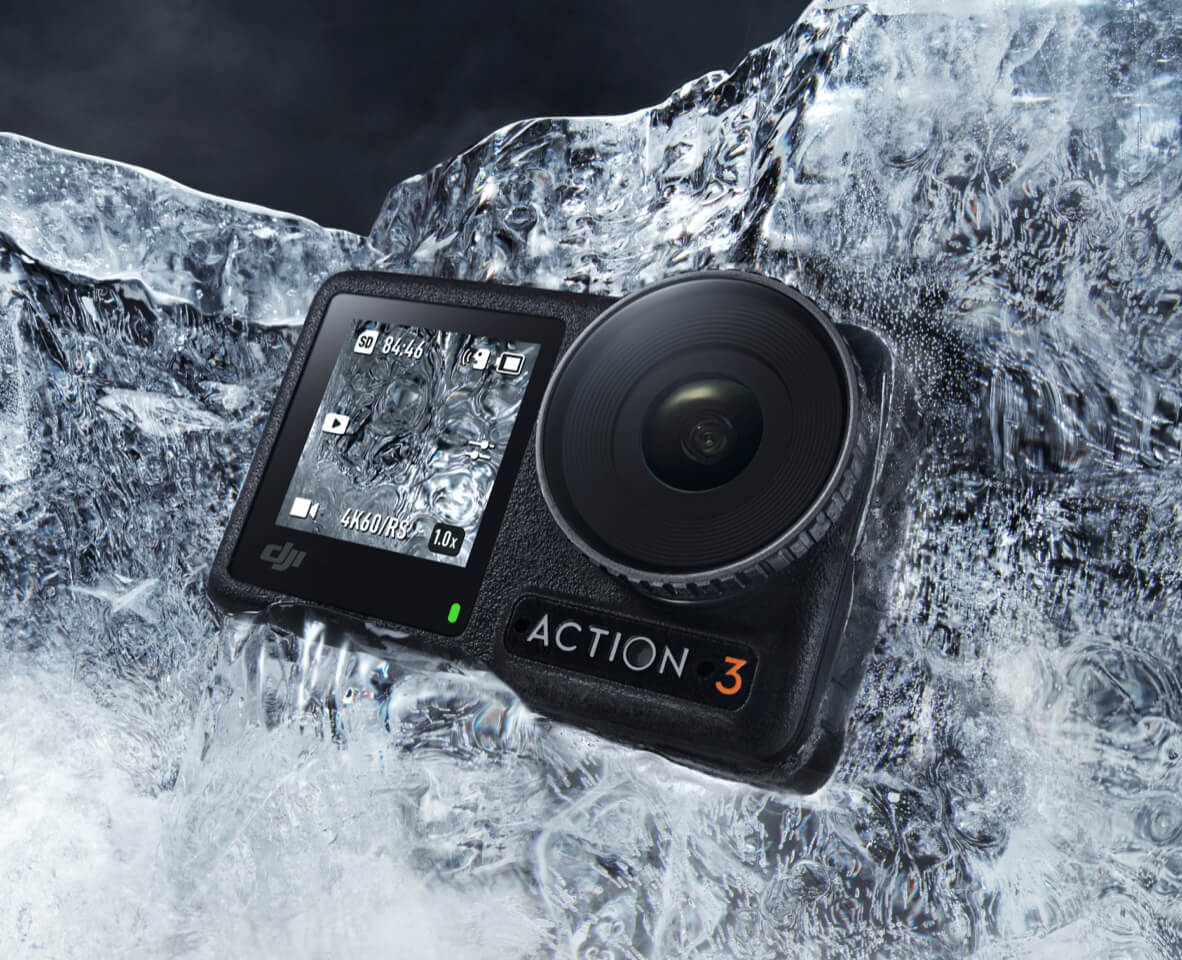 160-min Extended Battery Life
Battery life lasts as long as you do. The battery capacity limits have been pushed even further with Action 3 to allow 2.5+ hours of use. [7] Capture entire adventures all on a single charge.View More Data
Fast Charging
Stop waiting for power. Action 3 is the first action camera that natively supports fast-charge technology. In just 18 minutes, it can be powered up to 80%, [8] which is enough for approximately two hours of shooting. [8]
Multiple EIS Modes
A Truly Comprehensive Stabilization System
RockSteady 3.0
A new generation of intelligent stabilization algorithm fuels the latest version of RockSteady EIS, which can effectively eliminate camera shake in all directions. It supports use while recording at up to 4K/120fps, providing a stable and immersive first-person perspective.
HorizonSteady
This smart stabilization feature helps to eliminate camera shake in all directions, and even horizontally corrects tilt at any angle. That means footage can remain horizontally level, even through heavy bumps and 360° rotations. In addition, you can activate HorizonBalancing, which corrects the tilt horizontally within ±45° and supports recording stable 4K/60fps videos.
Protection
Care-Free Creation
16m Waterproof
Let's go deeper. The camera body is fully optimized to be used at depths of up to 16 meters (52 feet), [3] enhancing your underwater adventures without the need for additional accessories.
High-Strength Glass
Drop resistant and hydrophobic. The front screen, rear screen, and lens protective cover are all made with high-strength Gorilla Glass, which is not only wear-resistant and scratch-resistant, but also 1.5-meter drop resistant. [5] In addition, these three spots feature hydrophobic coating, [9] which repels water quickly without affecting image quality.
Control
Features that Just Make Sense
Dual Touchscreens
A front touchscreen too. The front screen is convenient for vlogging and framing selfies and supports commonly used touch control functions. No more turning the camera around for parameter adjustments, mode switching, or video playback.

When the camera is switched between horizontal and vertical orientations, the user interface adapts accordingly. The touchscreens are also sensitive enough to be operated easily with wet hands.
Voice Interaction
Sound Recording
Vivid Footage, Remarkable Audio
DJI Mimo
Edit, Share, and Explore
InvisiStick for Skiing
The DJI Mimo app unlocks the power of your smartphone to get the most out of Action 3. It uses cloud computing and AI algorithms to eliminate the selfie stick for skiing and snowboarding scenarios, [12] giving you breathtaking footage that looks like it was shot by a pro.
Wi-Fi Livestream
Action 3 supports livestream platforms and multiple resolutions for you to choose from. Connect with your world face-to-face at any time, and even record your livestream footage.
LightCut Video Editor
Connect, Sync, and Edit Videos Easily
The LightCut video editor app is thoroughly optimized for use with Action 3. It can automatically select clips and intelligently match them with exclusive templates to generate ready-to-share video edits.
Comprehensive Accessories, Endless Functionality [13]
Horizontal-Vertical Protective Frame
While protecting the camera from bumps, it also supports quick switches between horizontal and vertical mounting positions. It works seamlessly with the Adhesive Base Kit and 1.5m Extension Rod Kit for endless mounting and perspective options.
Multifunctional Battery Case
Stores three batteries and two microSD cards. Intelligently fast charges three batteries, and can be used together with those batteries as a power bank to charge other devices like your smartphone.
1.5m Extension Rod Kit
Compact, easy to hold, and adjustable from 0.3 to 1.5 meters, this extension rod makes selfies and other creative-angle shots effortless. The 1/4″ threaded hole on the bottom supports accessory expansion for more versatile uses.
Osmo Action Biking Accessory Kit
Includes the Osmo Action Chest Strap Mount and Osmo Action Handlebar Mount to secure your camera to your chest or handlebars, allowing you to focus on your ride and stay in the moment.
Osmo Action Diving Accessory Kit
Includes the Osmo Action 3 Waterproof Case, DJI Floating Handle, Locking Screw, and Anti-Fog Inserts for underwater creation at depths of up to 60-meters, providing a safer and more flexible underwater shooting experience.
Osmo Action 3
Capture Everything StablyAction 3 adopts DJI's next generation of intelligent stabilization algorithm. Even if the camera rotates 360°, images stay stable horizontally.
Ultra HD with Super-Wide FOVA 155° super-wide distortion-free FOV combined with 4K/120fps [1] makes all of your dynamic moments look natural, clear, and super smooth.
150 Mins in -20° C (-4° F)Action 3 delivers a 160-min max operating time [2] and a 150-min max in -20° C (-4° F) temps [3] for powerful winter-weather performance.
Quick-Release Vertical MountA quick-release design allows fast switches to vertical shooting plus impact resistance with strong magnetic force and a positioning notch. [4]
Enhanced Waterproof CapabilityThe camera body is tough, fully optimized, and waterproof. You can use it down to 16 meters [5] without the need for any additional accessories.
In the Box
Osmo Action 3× 1
Osmo Action 3 Extreme Battery× 1
Osmo Action 3 Horizontal-Vertical Protective Frame× 1
Osmo Action 3 Rubber Lens Protector× 2
Osmo Action 3 Quick-Release Adapter Mount× 1
Osmo Flat Adhesive Base× 1
Osmo Locking Screw× 1
Type-C to Type-C PD Cable× 1
DJI Logo Sticker× 2
Which is the Best for You?
Osmo Action 3
Cold-Resistant and Durable Action Camera145 gMax Operating Time: 160 minsOperating Time at -20° C (-4° F): 150 minsSupports Fast ChargingRockSteady 3.0HorizonSteadyHorizonBalancingQuick-Release Design16m waterproof without Waterproof Case, 60m waterproof with Waterproof CaseOperating Temperature: -20° to 45° C (-4° to 113° F)Dual LCD TouchscreensFront Screen: 1.4-inchRear Screen: 2.25-inch1/1.7-inch CMOS Sensor12 MPFOV: 155°, Aperture: f/2.8L×W×H: 70.5×44.2×32.8 mm3 MicrophonesStereo Recording
DJI Action 2 Dual-Screen Combo
Magnetic Wearable Action Camera120 gMax Operating Time: 160 mins–RockSteady 2.0HorizonSteadyHorizonBalancingQuick-Release DesignCamera Unit: 10m waterproof without Waterproof Case, 60m waterproof with Waterproof CaseOperating Temperature: 0° to 40° C (32° to 104° F)Dual OLED TouchscreensFront Touchscreen Module Screen: 1.76-inchCamera Unit Screen: 1.76-inch1/1.7-inch CMOS Sensor12 MPFOV: 155°, Aperture: f/2.8Camera Unit: L×W×H: 39×39×22.3 mm; Front Touchscreen Module: L×W×H: 39×41.6×24.6 mmCamera Unit: 1 Microphone; Front Touchscreen Module: 3 MicrophonesStereo Recording